Saturday, May 14, 2016:   1:30-4:30 pm
Learn to use Yogananda's techniques to increase your energy & power.
Practice principles and affirmations that uplift your thinking & experience of life.
Discover how to overcome the great obstacles of worry, fear, nervousness, & anger.
Reclaim the joyful confidence, deeper calmness, & greater courage that is naturally yours.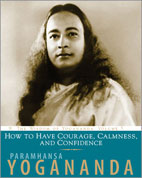 This workshop is based on the book, How to Have Courage, Calmness, & Confidence by Paramhansa Yogananda and will be presented by a Special Guest Teacher from Ananda Village.
Cost: $30
To register or for more information:  Call Marlene at (530) 343-0819 or send an email to:  info@anandachico.org