Saturday, June 11, 2016:  1:30-4:30 pm
Learn to revitalize the body with life force through Yogananda's Energization Exercises.
Discover how to draw on limitless cosmic energy through breathing techniques.
Experience the art of "Super Relaxation" through visualization & affirmation.
Explore lifestyles where attitudes & practices can heal body, mind, & spirit.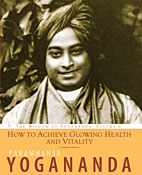 This workshop is based on the book, How to Achieve Glowing Health & Vitality by Paramhansa Yogananda and will be presented by a special guest teacher from Ananda Village.
Cost: $30
To register or for more information, call Marlene: (530) 343-0819 or send us an email: info@anandachico.org